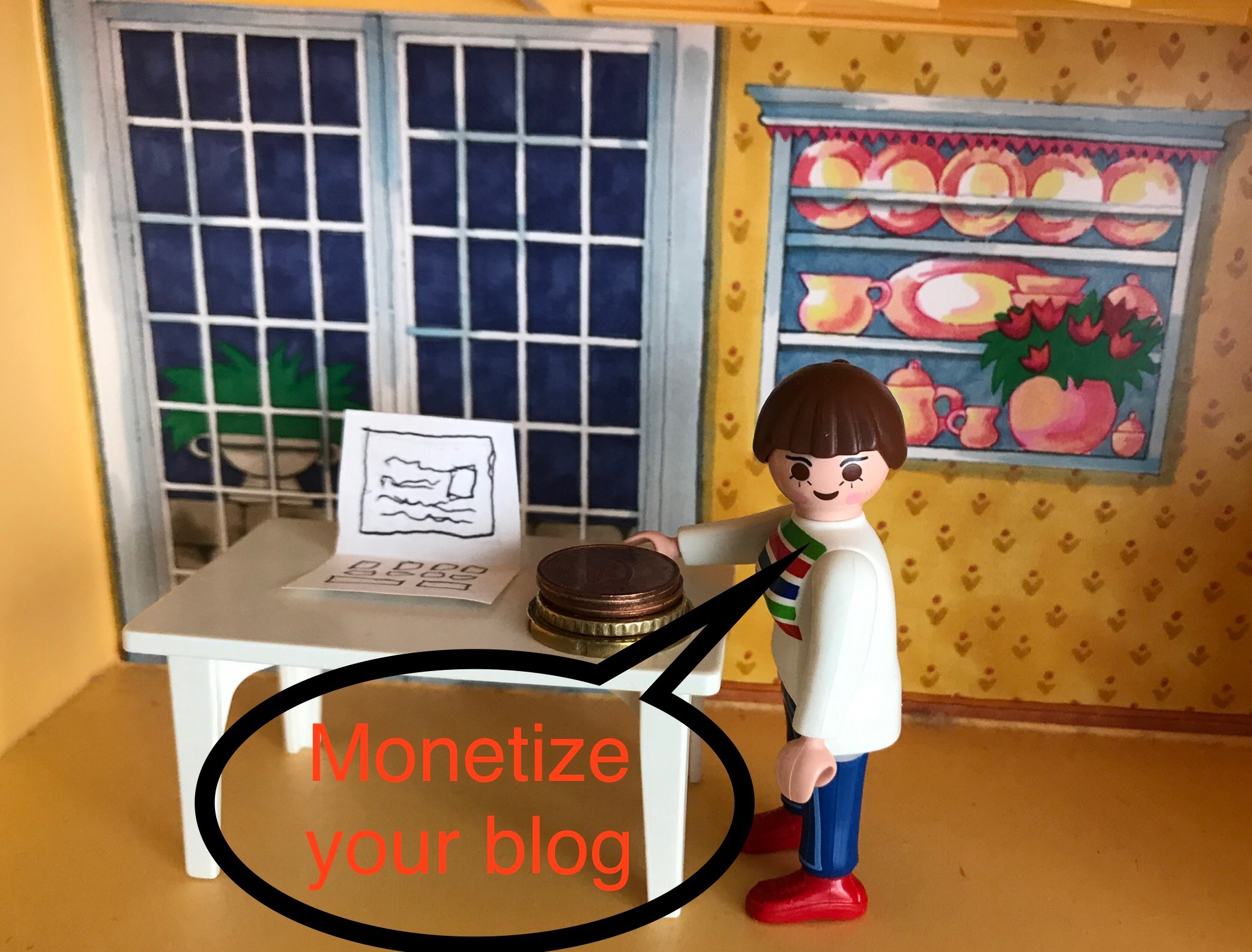 Mums, if you are not new around here, you probably noticed I put advertisements in the blog. It does not look as "clean" as before, but it was one of the ways I found to put in practice some of the knowledge I have been acquiring during this motherhood/CEO journey. Also, a way to make money from the blog.
Recently I have been reading and listening to videos about this subject and found that if I put that information together here, it could be useful for you too.
The easiest ways to make money with your website
> Google Adsense
If you have a blog, a forum or other type of website, Google Adsense can be an option to have an extra income. Adsense is an advertising platform that allows you to earn money.
The amount you will earn depends on several factors:
1. The quantity of visitors/followers (the most visitors/followers you have, the biggest chance to get a click in one of the advertisements presented on your website).
2. Said that the number of clicks and the time people are watching your advertisement are what decides mostly of what your income will be. Adsense also gives you a commission per thousand impressions (in a simplified way, impressions are the number of views of your posts. If people view your posts, consequently view the advertisement you have there. So, even if they are not clicking they are watching that advertisement somehow and that counts too, even if only in every 1000 views).
3. The content quality (the best the content is better because you will have more visitors/followers and consequently it increases the probabilities that somebody clicks in the advertisements. Do not click in your own advertisements, because Google has smart ways to know it and it can block your Adsense account. Just use White Hat techniques to increase your website visitors.
Maybe you do not know it but through cookies, Google tracks what sites you have been watching and considering that and the country you are located in, they choose the advertisement that will appear in your screen, when you enter a website.
It means that advertisements are not static, they change according to the person, computer and location of the person that is visiting your website. That can increase also the probabilities of receiving a click and make more money with your blog.
You can also adjust the type of advertisement you would like to use in your page and be attentive to your website design because not all of them are Google Adsense friendly.
In another post, I will tell you how to create a Google Adsense account.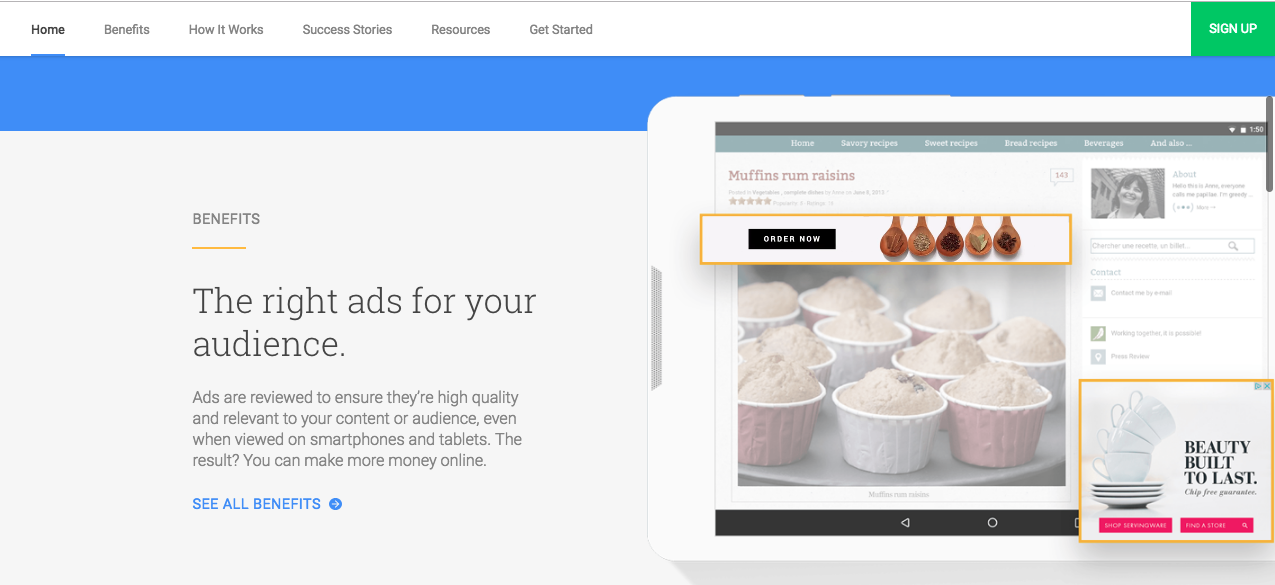 > Affiliates
The second way you can make money easily with your website is with affiliates.
Affiliates are companies/products that you recommend on your website.
Trough a link you put in your webpage (you must contact the affiliate and have a code to generate that link in your page) and each time somebody purchases something from them through that link, you earn a commission.
There is an infinity of affiliate marketing possibilities but you should choose one that is trustable and that sells something connected to your niche. If you have a website about babies, you should just choose affiliates connected to baby products. Otherwise, people will not be interested even in click on that link.
Do not think about the money but in satisfying your audience, that is the one you are writing for and that you should please.
LIST OF AFFILIATES:
AMAZON ASSOCIATES – The most trustable in the market. Conversions are very high. If you get a purchase, even if in a different category than the one visitors "clicked" in your page, you will receive the value of the total purchase the visitor made. To make it clear, imagine your visitor clicked on a link in your webpage to buy diapers on Amazon, but at the end, when entering Amazon via your website, that visitor bought toys and clothes for baby, you will get the commission for all the purchase and not only the diapers. Even if commissions are not that high, if a person makes a good purchase, you earn a good commission. Just watch it here:
CLICKBANK – Is another affiliate program. It uses mainly digital products but there are also some physical products. Once many products are expensive, you can get a commission of 75% (not so common, but possible). You should also check the "gravity", that tells how many affiliates sold that specific product during the last week. The more gravity you find, the better are the opportunities for you to seel that product if they are according to your niche. You must put banners of them on your page to be profitable.
SHAREASALE – Is mainly focused on tangible products (not digital). You can get up to 20% of commission in some products. It pays monthly, contrary to other affiliates.
RAKUTENAFFILIATENETWORK– You need to have a considerable amount of visitors monthly and page views superior to 500. Based on that information, they will pay you more or less. Just use it when you have a bigger audience.
When choosing an affiliate you should choose those who are a compliment but not a competition to your website. If you are selling products for babies, do not bring an affiliate that sells the same kind of product. Choose, for example, an affiliate that sells books about babies or parenting.
There are other ways to promote affiliate products. One of them is picking a niche in Google or another web browser (for example, write "Football affiliates" in the browser and several options will appear according to the niche you chose). Just be more careful with this last option, because some affiliates are not trustable and are not transparent.
> ADVERTORIALS
They are basically informative articles with the intention to advertise a product.
The article gives you information about some kind of subject/product and at the same time, it is advertising the product it is talking about, in a subtle way.
Advertorials, to be effective, must give priority to good content. Only after that, they must include the advertisement (70% good content + 30% advertising is the perfect formula to be successful with this kind of monetization).
I remember some time ago I was reading the news on BBC and suddenly I saw an article about a product that was supposed to heal eye problems. I thought "this is BBC so it has credibility and it is not trying to cheat me", but at the end, they were trying to sell that product. Only then I got aware of advertorials.
There some important rules with this kind of monetization:
You must have a considerable amount of traffic on your website (at least 500 people every month).
You must write something with quality and credibility.
Do not sell yourself cheap. The most traffic you have to most you can charge. Imagine you have 500 to 1000 visitors every month, it would be normal to be paid 50-100 dollars. If you had 10000 visitors per month you could charge 200 dollars, and so on. There is not a fixed amount, but experts recommend not to sell yourself for a low price. At the end you are giving them the space in your blog and the audience for the company to be advertised.
> SELL YOUR OWN PRODUCTS
This is another option to make money with your website. Not easy as the last ones.
You can sell your own products, tangible or digital (online courses, books, clothes, toys, etc).
For this, you need to create your online store, receive payments in PayPal or other methods and find a way to increase your audience.
Share your ideas and let me know if you have something to add.
Have a nice week!